Cement Shine
Welcome to Cement Shine, your number one source for all concrete flooring solutions. Whether it's concrete polishing, epoxy flooring, or stained or dyed concrete applications, we're dedicated to giving you the very best.
Our focus
We focus on durability, good value, and timeliness. Our motto is Professional. Durable. Flooring Solutions.
Founded in 2005 by Steve Williamson, Cement Shine has come a long way from its beginnings in a Southern California garage. When Steve Williamson first started out, his passion for decorative concrete drove him to become a contractor and gave him the impetus to turn hard work and inspiration into a booming business. Like in the early years, we still enjoy serving general contractors but now have an impressive portfolio of working for facilities managers, property managers, small business owners, celebrities & Fortune 500 companies.
Our Goals
"It's not about concrete floors, let me rephrase that, yes first you have to have this skill but doing great work is only the beginning. I try and lead this company with a focus on communication and accountability as an expectation for those on the Cement Shine team. We have to meet deadlines, we have to do quality work in the time allotted safely. Striving to remain disciplined and to be committed only to the select projects we take on. Only commit to what we can handle to keep quality up and everybody happy."(Steve Williamson Houston Construction news Jan. 2016 issue)
Our Market
For the last 6 years, we are proud to also serve customers in the Greater Houston area and are thrilled to be a part of the delightful culture and good people of Houston! We hope you enjoy our services as much as we enjoy offering them to you. If you have any questions or comments, please don't hesitate to contact us directly at (832) 600-8149.
Why Us
Concrete Polishing Houston has over 15 years of experience in the specialty concrete flooring industry.  We have installed millions of square footage of polished concrete and epoxy flooring systems. When it comes to concrete flooring systems we know what works, and more importantly, what doesn't work. We have the ability to offer customized options, based on your criteria, to help you reach your needs. Over the years, we have learned what our client's value most and have adopted these values as our own:
Experience

Since 2005, we have polished and resurfaced countless concrete floors. Since this time, we have learned exactly what equipment and materials are needed to get lasting and durable results. Many of our installers have been with us for years, some since our inception. When it comes to getting a job done right there really is no substitution for experienced craftsmanship. We value our employees and it shows in every job we complete.


Reasonable Cost

We offer competitive pricing whether your project is large or small. Construction can be costly and the flooring budget is sometimes tight because it's the last phase of the process. We understand that and are here to help you find a concrete flooring solution that matches up with your budget.  We have products that are budget-friendly and can get a floor to look the way you want it to without the hefty price tag. Check out our Grind & Seal page as an example of how we are saving our clients tons of money. Can you sing, Do-Re-Mi!

Timeliness

Concrete Polishing Houston is known for its professionalism and ability to meet agreed-upon deadlines. Our installers are never doubled booked. We show up when we say we are going to and keep lines of communication open at all times. From beginning to end, count of us to get the job done fast and efficiently so you can go back to business as usual.


Durability

Our concrete flooring systems are built to last. With polished concrete floors, we are simply refining your existing concrete floor with precision tooling bringing it to the desired level of shine. This is an excellent flooring solution when it comes to durability. No topical coating is applied and the life-time cycle of the floor is the same as the concrete slab—nearly FOREVER.  Maintenance of the slab only requires sweeping and mopping as needed. Epoxy floor coatings are applied with two-part 100% solids grade epoxy, which is an industrial product formulated by chemists to adhere to the concrete. It is a private label brand that is not sold in box stores to the general public. In addition to using a commercial grade epoxy, we also prep each concrete surface by manually grinding the concrete slab. This process makes the concrete porous and allows the epoxy to soak in and adhere properly to the concrete floor.  You will surprisingly find many contractors skip this imperative step! When dried, epoxy coated floors are chemical resistant, making oil spills, for example, easy to clean. Epoxy floors are expected to last for several years.
Founder & History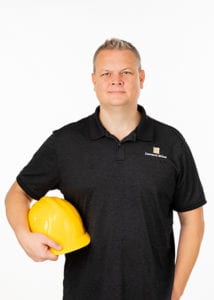 Looking Back
"Sometime in the late 1970s, my grandfather (cement mason) mixed up a batch of concrete poured it in a small form and handed me a trowel. I must have been 3 years old.  I think that could have been the origin of my fascination with concrete.  It's not like he was the one that mentored me, as he mostly secluded himself from us and the world due to the experiences of being a WWII vet. Maybe he was my example as a championed figure in our family that happened to be a cement mason. 
I pursued business as a college student despite my mother's recommendation that she thought I would enjoy trade school. For some reason, I took this as she thought that I wasn't college material.  After becoming a Banker and working many sales and finance positions out of school, I hated the finance world.  A friend approached me with the idea of starting a concrete installation company.  It sounded great. Working in construction was always rewarding and especially loved concrete. The only thing I had to lose was working the phones in cubical for a job I hated.  I have loved every moment since then for the better part of the last two decades.  
Obviously, my mother was correct. It took years of my stubbornness to understand her judgment. Her intuition on my aptitudes or inclinations was not based on intelligence, but maybe the tradition and abilities of many generations before me. It took me a while to embrace it but I'm happy to embrace I was just born a dumb concrete guy." 
Recent Times
At this point, my duties are focused on the talent and keeping the quality where I want it to be.  I'm just the bus driver now, I just have to make sure skilled, moral people are with me on this bus. We all want to get to the destination, safely.  We are more focused and specialized now. Over the years we have moved from being a general grab bag of concrete services to specializing in commercial concrete floor surface treatments.   
Education:
Master of Business 
Undergrad study Focus on Finance 
Construction Project management Certificate 
Certificate in Entrepreneurship 
Career highlights:
Selected to participate in Goldman Sachs small business program chaired by Warren Buffet & Michael Bloomberg in 2014.    
Managed multiple projects as high as $600,000 and square footage as large as 40,000. See projects 
Worked as a consultant for the DIY network, appearing on TV shows featuring concrete coatings.  
Served as a contributor to Sunset Magazines' Decorative Concrete Guide, sold at Home Depot. 
Consultant to Makita by live testing prototypes of concrete flooring related tools for R & D 
Invited by the SBA in 2018 to represent small businesses to Address Congress members on Capital Access 
Featured in Houston Construction News
Forbes magazine small business contributor